Our History
and our services
We are a small team of lovers of fresh flowers, those that last a long time and smell like celebration. We believe that flowers have the power to make it all better: from a normal workday, a space at home, a gathering of friends or family, or any special date, to a unique and unrepeatable event, such as a wedding! Our beautiful floral arrangements will surprise all your loved ones. 
We've been located in South Miami for more than 20 years, with the mission that everyone can give flowers or enjoy them at their homes, offices, and events, in a comfortable and affordable way.
We always work with fresh flowers, and we have professional and creative florists who love your talent and are willing to create unique and innovative designs that reflect well what our clients want to convey.
Delivering happiness in each of our arrangements is our passion and being efficient and reliable is our goal.
visit our online shop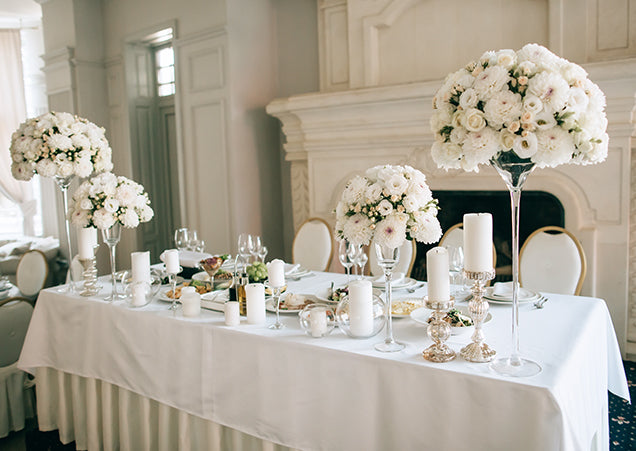 Testimonials
see what our clients says
"We are very grateful for the work so professional and so dedicated that you had with us for the day of our wedding. Thank you very much for making the day even more special with the beautiful flowers that you put for us. With a lot of love, Elisa and Christian"
Elisa & Christian
"We can't thank you enough for the amazing job you did on our wedding. Although a few months have passed since our special day, we are still thrilled about the way everything turned out. So perfect! It was truly a pleasure to work with you".
Heather & George Tafur
"Gladys Flowers has been an inspiring, innovative, and brilliant way to express my ideas through their work. From my daughter's fifteens, to my own personal wedding, they captured my vision and were diligent in fulfilling it, with great efforts. They are timely and committed to their clients. They are also very trustworthy and competent with their works & events. A pleasant small flower shop with BIG and beautiful results"
Yahaira Vega
"Beatriz, las flores salieron bellas y me fascinó todo! Muchas gracias por ser tan profesional; mis sueños se convirtieron en una realidad. Con mucho amor, Alejandro y Caroline"
Caroline & Alejandro Pereira
"Les cuento les gustaron muchísimo las flores. Quedaron encantados con el arreglo. Muchísimas gracias"
Jairo De Maarten
"My girlfriend got this order and was thrilled with it. She sent me pictures and it is a beautiful arrangement. Thank you so much for doing such beautiful work"
Charlie Schmidt
"Thank you Gladys Flowers for my wedding arrangements, Beatriz is a great person and very professional. I totally recommend this place"
Luisa Zuloaga
"Marianel and I would like to thank you for all of the beautiful floral arrangements and decor you created for us. All of the arrangements looked wonderful and we received many compliments from our guests. The arch that you set up in our ceremony room looked wonderful as well. I know Marianel and I had some changes in our wedding location however, you remained very flexible and kind throughout the whole process. I felt very informed along the way. We would recommend you to anyone in need of floral arrangements. Thank you for making our day very special"
Robert King and Marianel Diaz