Our History
and our services
Our company, is proud to create and decorate with flowers for more than twenty years. We always want to give you the best, for that reason we have for all our customers, excellent options in flower decoration for every kind of event and every budget. we are focused on developing unique and innovative designs that radiate beauty and style, in order to guarantee both satisfaction and connection to the occasion, we are the best choice for weddings, corporate events, birthday parties or any occasion if you want to give the best impression to your guests.

We also provide beautiful floral arrangements with designs that will surprise your loved ones. The perfect gift for a special day, birthdays, mother's day, valentine's day, or just because. When you want a gift to never forget, think about us. Now with our new online store will be easier for our customers to access all our products.
read more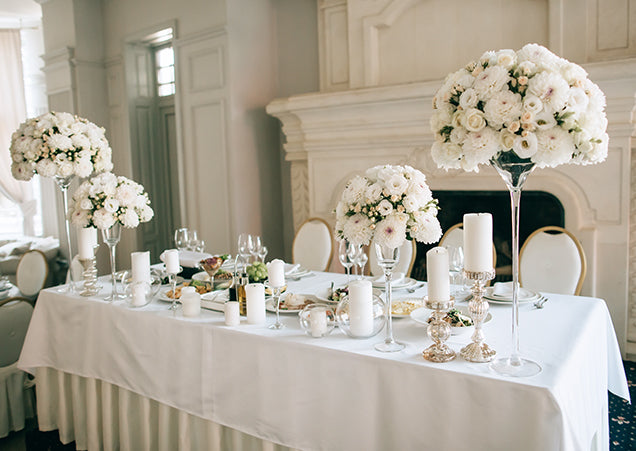 MAKING BOUQUETS WITH PASSION
Bridal Inspirations
At Gladys Flowers we design in detail each floral piece for your wedding (personal flowers, ceremony flowers and reception flowers). We take care of planning on time the delivery and decoration for that great unique and unrepeatable event. We make the wedding flowers of your dreams come alive, always at a reasonable price. We love weddings and they are our specialty!
Floral Arrangements
You don't need to wait for a specific date to arrive, to express your feelings to someone. Every day is ideal to surprise a special person with a beautiful floral detail. At Gladys Flowers, we help you choose the perfect arrangement for every reason and occasion!
Weddings
As professional floral designers with over 20 years of experience, we know exactly how to help you choose and plan the floral decoration for that big day. We understand your budget is very important, so we offer you a wide selection of flower arrangements, from a small boutonniere or a delicate hair piece, to spectacular centerpieces and wedding arches. Contact us today so that your dream wedding flowers come to life!
Events
As experienced florists, we offer quick and elegant solutions to give the perfect decorative touch to every social event (graduation, birthday, anniversary), corporate event (meeting, conference, convention) and more, with a unique selection of flowers and beautiful designs that will always surprise your guests!
Proms & Graduations
Sometimes all you need is to complement your beautiful look with a cute corsage, boutonniere or small bouquet. We design for you the perfect accessory for your party, making you look even more spectacular on that unforgettable day!
Special Occasions
When you need a special and unforgettable gift, flowers are always an excellent choice. We can create the perfect floral arrangement, whatever the occasion presented to you. Remember: If you don't know how to express it, say it with flowers!
Featured Products
Flower Arrangements and Wedding decoration in Miami florist!
Testimonials
see what our clients says
"We are very grateful for the work so professional and so dedicated that you had with us for the day of our wedding. Thank you very much for making the day even more special with the beautiful flowers that you put for us. With a lot of love, Elisa and Christian"
Elisa & Christian
"We can't thank you enough for the amazing job you did on our wedding. Although a few months have passed since our special day, we are still thrilled about the way everything turned out. So perfect! It was truly a pleasure to work with you".
Heather & George Tafur
"Gladys Flowers has been an inspiring, innovative, and brilliant way to express my ideas through their work. From my daughter's fifteens, to my own personal wedding, they captured my vision and were diligent in fulfilling it, with great efforts. They are timely and committed to their clients. They are also very trustworthy and competent with their works & events. A pleasant small flower shop with BIG and beautiful results"
Yahaira Vega
"Beatriz, las flores salieron bellas y me fascinó todo! Muchas gracias por ser tan profesional; mis sueños se convirtieron en una realidad. Con mucho amor, Alejandro y Caroline"
Caroline & Alejandro Pereira
"Les cuento les gustaron muchísimo las flores. Quedaron encantados con el arreglo. Muchísimas gracias"
Jairo De Maarten
"My girlfriend got this order and was thrilled with it. She sent me pictures and it is a beautiful arrangement. Thank you so much for doing such beautiful work"
Charlie Schmidt
"Thank you Gladys Flowers for my wedding arrangements, Beatriz is a great person and very professional. I totally recommend this place"
Luisa Zuloaga
"Marianel and I would like to thank you for all of the beautiful floral arrangements and decor you created for us. All of the arrangements looked wonderful and we received many compliments from our guests. The arch that you set up in our ceremony room looked wonderful as well. I know Marianel and I had some changes in our wedding location however, you remained very flexible and kind throughout the whole process. I felt very informed along the way. We would recommend you to anyone in need of floral arrangements. Thank you for making our day very special"
Robert King and Marianel Diaz